Bastimentos Chocolate and Crafts
When it comes to creativity, the island of Bastimentos is the front runner with some amazing artisans creating beautiful local arts and crafts.  Up In The Hill run by Javie is a treasure trove of island knick knacks including mosiac mirrors, wooden and coconut  furniture as well as various organic products of which the most popular has to be the organic cocao made into the most delicious chocolate.
To find out more about the various cocao plants and how the chocolate is made, visit his website Up In The Hill  to book a tour and spend a great day out with him!
Botanical Gardens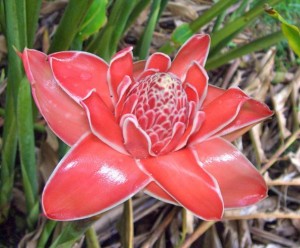 Lynn has devoted more than ten years to her amazing Botanical Gardens on the Main Island.  Her collection of indigenous as well as imported plants has resulted in the island wildlife choosing her garden to make their home in.  Not only do you get the opportunity to see up close and personal some of the amazing creatures that live on the islands, but she´ll treat you to some coconut milk and a glass of refreshing lemongrass tea at the end of the tour.    You often get to see the howler monkeys in the trees on the last stretch of the tour and for bird lovers, the vantage point from the main house will give you a birds eye view of their world.
Tours take place on Mondays at 1pm and on Fridays at 8:30am  You can book by calling 757 9461 or visit Finca Los Monos
Zipline Adventures 
Ready to fly through the tree tops with Red Frog Beach Canopy Tours?  This is by far the most thrilling adventure you can have with 7 ziplines including Tarzan Swings and Traversable Canopy Net.  For the more daring, there is also a Treetop Challenge Course.  Ziplines are around 150 feet off the ground and you´ll be able to reach speeds of up to 42 miles an hour careening along the almost 1000 foot long lines.   See the rainforest as you have never seen it before.
Tours take place twice a day at 10am and 2pm leaving the Red Frog Beach Dock.  It is highly recommended to make a reservation and this can be done through their website at Red Frog Beach Canopy Tours